Will the Litecoin MimbleWimble upgrade become its downfall?
Five major South Korean exchanges have announced their intentions to delist Litecoin (LTC). The cryptocurrency recently implemented an update to improve its privacy and scalability features.
Related Reading | Litecoin Reveals MimbleWimble Release Date, Will LTC See Relief?
As a result, Upbit, Bithumb, Korbit, Gopax and Coinone will stop offering to their clients. The update has made Litecoin incompatible with South Korean regulations.
In the official exclusion announcement published by Upbit, the platform states that the following trading pairs will not be available today, June 8.the: LTC/KRW, LTC/BTC and LTC/USDT. The main reason behind this decision, the exchange said, is:
(…) the update is believed to have been performed with a select function that does not expose the transaction information.
The decision is guided, the publication continued, by South Korea's Specific Financial Information Law. This regulation requires exchange platforms to verify the "transparency" of a blockchain's transaction.
That way, Upbit and other South Korean exchanges can verify that the user or transaction does not violate the country's anti-money laundering regulations. The rule also aims to prevent bad actors from obtaining funds through illegal activities.
South Korean exchanges claim that the MimbleWimble upgrade will provide the Litecoin network with these capabilities:
(LTC) has room to see the addition of technology that makes these transfer records non-identifiable, which is why we decided to designate it as a major issue. So far, no deposits have been made using the Mimblewimble feature with Upbit, and we do not plan to reflect deposits in the future.
MimbleWimble and Litecoin's new privacy features appear to affect South Korean exchanges. However, privacy coins have been dropped from major trading platforms in the last two years.
Monero (XMR), Zcash (ZEC) and others suffered from a similar decision made by many exchanges around the world. The MimbleWimble could trigger this possibility for LTC.
Litecoin Unaffected by South Korean Exchanges Decision
At the time of writing, the price of LTC does not appear to be affected by recent events. The cryptocurrency continues to move sideways and is trading at $62.
Larger cryptocurrencies such as Bitcoin and Ethereum continue on the same path as they remain range bound and unable to break above local resistance. Only Cardano (ADA), due to an increase in network activity, and Chainlink (LINK), due to its staking roadmap, appear to be decoupling from the broader market.
Santiment research company indicated:
Cryptocurrency prices fell sharply in the first week of June, but the result has been mostly no movement for Bitcoin and Ethereum. Altcoins, on the other hand, have shown large decouplings from each other, with ADA, LINK Y HNT acting good
Related Reading | Litecoin drops 87% of trading volume in the first quarter of 2022
Additional data from material indicators, for low maturities, show an increase in purchase orders from retail investors. Major investors appear to be selling on the current price action, but it is too early to tell if this trend will continue in the days ahead.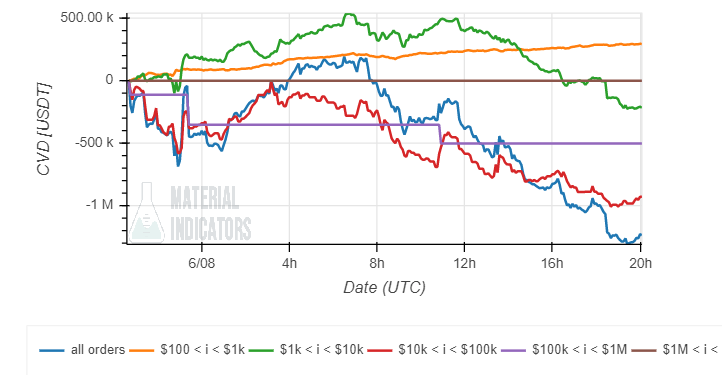 Source link